RRIF Centre
RRIF CENTRE
---
Your clients have been thinking seriously about retirement. Help them put their plans into practice so they can transition smoothly into the lifestyle of their choice.
Is a RRIF right for your clients?
If your clients want to maintain control over their investments, then converting their Registered Retirement Savings Plan (RRSP) to a Registered Retirement Income Fund (RRIF) may be the best solution for them. With a RRIF, their money continues to grow tax sheltered and they will receive regular retirement income.
We have the investment solutions to meet your clients' needs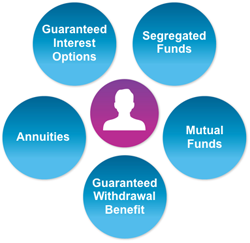 Our mutual funds are easy to understand. The fund line-up includes Emblem Portfolios, our managed program, which provides investment diversification and tactical asset management.
Class Plus 3.0*, our GWB, offers guaranteed retirement income for life**. Your clients will know exactly how much income they will receive, every year for life, no matter how long they live, regardless of markets.
Empire Life Guaranteed Investment Funds* offer clients choice and flexibility in maturity and death benefit guarantees and fund options to meet their needs. Automatic death benefit guarantee resets are available on all guarantee levels and two maturity benefit guarantee resets per year are available on 100/100 series.
We also offer a full range of income solutions:
Getting started
Help your clients put their retirement plans into practice. Here are some tools to help you get the conversation started.
Marketing Materials

Tools and Calculators

Reference Materials

 

 

 

 

 

 

 
Access information on our segregated fund lineup at www.empire.ca
*Insurance contracts are issued by The Empire Life Insurance Company.
**Provided there are no Excess Withdrawals.
Login
We require the following information to enter this part of the Empire Life Investments web site:
Need Help?
Please enter your 3 to 4 digit dealer code and 3 to 5 digit rep code. If you need further assistance, please call 1 855 823-6883.