See Rule Number 1
Nessim Mansoor
Senior Portfolio Manager, Canadian Equities
One aspect of Warren's Buffett's investment approach that sets him apart is his focus on protecting capital.
In fact, one of his most famous quotes is, "Rule Number 1 is never lose money. Rule Number 2 is never forget Rule Number 1."
On the surface, this may seem strange for someone who has invested primarily in equities for his entire career. And it is quite different from the swashbuckling hedge fund managers who seem so focused on stocks with the potential for big gains, regardless of the risks. And if we buy stocks because they tend to rise over the long term, why should we care about protecting against downside risks, anyway?
But, as usual, Buffett has hit upon something that is under-appreciated by most, which is that doing a good job of protecting capital can help you outperform, even during a bull market.
Market corrections are a normal part of investing. They are present even during bull markets. For example, our current bull market which began in March 2009 has seen no fewer than ten corrections in the TSX Index of 7% or more.* The more capital you have left after a period of market weakness, the more you have to benefit from the eventual recovery in stock prices.
Here's a simple example. A portfolio that falls by 25% needs to rise by 33% to get back to where it was before. (Think of $100 falling 25% to become $75 and then rising by 33% to get back to $100). Not great, but certainly not insurmountable.
But a portfolio that falls 50% needs to rise by a stunning 100% just to break even. Not impossible but not an easy task!
This example is perhaps more indicative of a serious market downturn rather than a correction that is a part of a bull market, and it is a hypothetical example.
So here's a real life example which takes place during the current bull market.
I'll use one of the funds I manage: the Empire Premier Equity Fund ("Premier Equity"), which I've been managing since February 2010. (I've deliberately chosen a fund that is closed to new investors so I won't be accused of making a sales pitch.)
On average, from February 2010 to May 2014, during months when the market rose, Premier Equity went up about 91% as much as the average fund in its peer group – this is known as its up-capture ratio. This has been a very positive period for the stock market; in fact, the average fund in its peer group was up, cumulatively, 42%.**
With an up-capture ratio of 91%, it would seem that Premier Equity would have lagged its peers over this very bullish time frame, but that has not been the case. From February 2010 to May 2014, Premier Equity was up 54% cumulatively, an outperformance of 12 percentage points.**
The reason for the outperformance was its down-capture ratio of 64%, meaning that during months when the market fell, Premier Equity fell only 64%** as much as the average fund in its peer group, and so held on to more of its capital to benefit from the eventual market recovery. We can see this graphically in the chart below.
I hope that Warren Buffett would approve.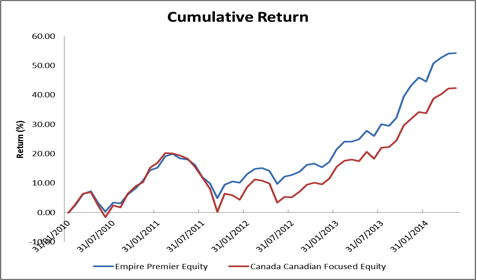 Chart Source: Morningstar as at July 7, 2014
*Source: Bloomberg as at July 7, 2014
**Source: Morningstar as at July 7, 2014